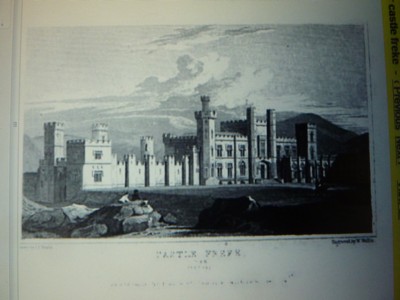 An Etch of Castle Freke in 1820
The Frekes of Castle Freke who married into the Bernard family of Bandon
There are several marriages between the Freke family and the Bernards of Castle Bernard. A short outline of Rathbarry, Castle Freke and the Freke family history is given below.
The former name of Castle Freke was Rathbarry. John Evans Freke built a new castle as the old Castle of Rathbarry was in a neglected and delapidated state. (See "View of the Seats of Noblemen and Gentry in England, Wales,Scotland and Ireland, 1820) A new site was chosen in another part of the Park, the new building containing numerous spacious suites of apartments on the principal story, consisting of a drawing room in the gallery stye of 50 foot by 20 foot, a library and an eating room, each 34 feet by 22 feet, a breakfast room and two other apartments. There was a magnificent hall and staircase, an excellent bed chamber story of twelve rooms and a basement story firmly vaulted. The pleasure grounds and gardens were very extensive stretching along the base of the hill East of the Castle.

In 1910 there was a major fire at the Castle. The castle was rebuilt to include concrete floors, a lift and electrification. By 1919 John Evans-Freke had sold the estate and moved to America and after a year to Kenya.
A short Freke family history as it relates to Rathbarry and Castle Freke
Robert Freke was auditor of the treasury in the reigns of King Henry VIII and Queen Elizabeth. His estate was worth upwards of 100,000 on his death. He had 8 children. His son and heir was Sir Thomas Freke who was born 27th September 1563 and knighted by King James. He stayed in Dorset and was the ancestor of the Frekes of Hannington, Upway and Farringdon and he died at Warnford, 5th May 1633. He had William who was baptized at Shroton, Dorset on 24th April, 1577 and who married Ann, daughter of Arthur Swaine of Sareen in Hampshire. William moved to Ireland. William and Ann had 12 children as follows:
(1) Elizabeth born Ockaford Fitzpaine, Dorset 1607
(2) William, born 1608 at Sareen, Hampshire married Hays of Scotland
(3) Robert born 1609 at Ockaford married Feilding, Yorkshire
(4) Thomas born 1610
(5) George born at Cerne, Dorset
(6) Alice born 1613 and buried at Cerne Dorset in 1617
(7) Arthur born at Sareen (see below) 13 Aug 1604
(8) Judith, baptized Sept 21, married 1st October 1622 to John Harding of Woolcomb, Dorset
(9) John born 11th June 1615 married the Mary, sister of Frances Bernard and had issue: Ann, Elizabeth, Alice, Mary, Margaret and Katherine
(10) Margaret born 14th Jan John Dennet of Ockford. without issue
(11) mary born 13th August 16
(12) Ann born 6th June 1613