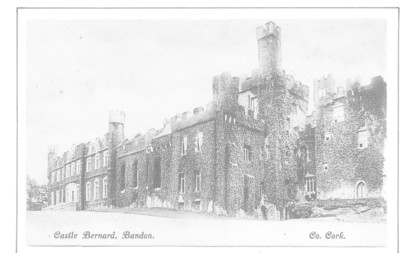 The Bernards of Castle Bernard Family Tree
According to the College of Arms, there is no historical evidence to support the existence of any of the Bernard family at Acornbank in Westmoreland. Furthermore, none of the officially registered pedigrees of the Earls of Bandon begin with anyone earlier than Francis in 1659. This is contrary to what was written in George Bennett's 'History of Bandon and the Principal Towns in the West Riding of County Cork'. Historians down to the present day have tended to incorrectly copy Bennett's history.
The origins of the Bernard or Barnard family Coat of Arms and roots is unclear. Francis Bernard spelt his name Barnard in his will of 1657. There is a Barnard family in 'The Visitation of Essex, 1612' and this family bore the same arms as those which can be seen on Judge Francis Bernard's memorial plaque in St Peter's Church, Bandon.
FRANCIS of Castle Mahon had two daughters and 1 son
(1) ? daughter married Sir George Reynolds and
(2) ? daughter married Percy Freke (? needs clarification as to which Freke)
(3) Francis (heir) married Elizabeth Freke, daughter of Arthur Freke of Rathbarry Castle He died 29th December 1659 (The will of Francis is dated 21 Dec 1666). Could have been Alice Freke??

FRANCIS and ELIZABETH had 8 Children:
(1) Elizabeth m Captain James Burrell. Had issue daughter Mary.
(2) Mary m (1) Thomas Poole of Knockameale (which is father bought in 1628, the father having been born about 1589 in Charlfield, Gloucestershire, son of a yeoman) who was bapt 14th May 1615 and died before 1657. They had issue: Thomas (living 1657), Francis (probate 1684), Mary and Jane (2)married before 1657 Capt John Freke of Garretstown and Knockanameele, Cork, (he was born 11th June 1615 and was still living in 1670). They had issue Anne who married (1) 1677-8 Francis Beamish of Kilmalooda d 1682 and she married (2) 1685 John Smith, Elizabeth married 1683 Joseph Jervois, Alice married 1683 Samuel Jervois, Mary married 1691 Thomas Hewitt of Clancoole, probate 1713, Margaret married 1687 Rev George Synge born 1649 and probate 1682 and Katherine
(3) Ellinor m Capt William Holecombe of Ballinaboe Had issue daughter Anne, Mary, Elizabeth.
(4) daughter m ? Wiltshire and had issue:
(5) Katherine m 1679 Francis Beamish of Kilmalooda, Co Cork (officer of the Bandon Militia in 1641) and had 7 children, Francis, John, Richard (progenitor of Mount Beamish, Willsgrove and Beaumont branches), Thomas, Jane, Catherine and Elizabeth. Francis and Catherine were progenitors of the Kilmalooda branch of Beamish. Catherine's intestate administration was taken out in 1695
(6) Alice m Lieut John Langton of Kilbrogan, son of Ansolme Langton of Gloucestershire, living in 1668. Had issue: John, Ansella, Thomas, William, Elizabeth, Alice
(7) Anne m sometime after 1657 Reuben Foulkes of Youghal,
(8) Francis (heir) m on 5th December 1661 Mary, daughter of Capt Arthur Freke of Castle Freke, Arthur Freke having been born at Sareen, Hampshire 13th August, 1604 and married Dorothy, daughter of Sir Peircy Smith of Ballynatray, Youghal. Francis died on 15th April 1690 defending his castle. He bequeathed everything to his daughter Katherine who was a minor to prevent his estates being forfeited to James II by whom his two sons had been attainted.. Probate was taken out three days after the fight at Castle Mahon
FRANCIS AND MARY (Freke) had
(1)Maria m (1) Eusebius Chute of Chute Hall, Tulligaron, Co Kerry (the Chutes settled in Ireland during the Desmond rebellion in the late 1500s. Eusebius and Maris had issue: Richard (heir who married Charity Herbert of Castle Island, Kerry) and Francis (left no issue), Pierce (ancestor of Chutes of Tralee) and Arthur(unmarried). Some of the Chute descendants had Bernard as a middle name (2) Francis Brewster of Brewstersfield, Co Kerry, son of Sir David Brewster,
(2)Anne m Robert Foulkes of Youghal (she died in 1754 & left her property to her nephew Stephen),
(3)Elizabeth m Rev Samuel Wilson of Little Island, Kerry
(4) Mary m Edward Adderly of Innishannon,
(5)Arthur (of Palace Anne born 1666 and buried in Ballymodan on 15th December 1735) m Anne Power on 22nd Dec 1695 at Lismore Castle,
(6)Judge Francis, born 1663 (heir) m in 1697 Alicia Ludlow (she was born 2nd July 1675 and died 16 May 1741), daughter of Stephen and granddaughter of Sir Henry Ludlow of Maiden Bradley, Wiltshire. (Stephen was brother to Edmund Ludlow, the republican) and had six sons and one daughter: (Judge Francis died suddenly on 29th June 1731 in Dublin aged 68 and is buried in the family vault at Ballymodan, Bandon)
(7)Katherine married 15th October 1703 Colonel John Gifford of Atherne. Their granddaughter, sole daughter and heiress of Arthur Gifford married in 1764 William Brabason, 2nd son of the 7th Earl of Meath
(8) Dorothy married 1688 Thomas Adderley. will dated 26th November 1691

JUDGE FRANCIS (heir) and ALICIA (Ludlow) had:-

(1) Stephen (born 17th July 1701 died at Tarbes, France in Oct 1757 unmarried), Barrister of Prospect Hall, Parish of Kinsalebeg, Waterford (near the Ferry point at Youghal with a good view of the ocean and described as a handsome seat. (Reference from: The Ancient and Present State of the County and City of Waterford by Charles Smith, 1774). Also referenced in Pocockes Tour of Ireland, 1752.
(2) Arthur born 1st Sept 1706 and died May 1757. Arthur was buried in Kinsale
(3) John
(4) William m his first cousin Henrietta Bernard of Palace Anne, Died 2nd December 1774. William was buried in Kinsale
(5) Elizabeth m (1) The Right Hon James Caulfield, 7th Lord and the Viscount Charlemont who was born 1682 and died 21st July 1726 and had issue James, his successor (2) Thomas Adderley of Innishannon. She died in childbirth on 30th May 1743.
(6) North Ludlow, born 15th April 1705, Major of Dragoons and died 15th April 1768 m (1) Rose Echlin, daughter of John Echlin Esq of Echlinville,Ardquin, Co Down (2) In 1751 he married Mary, daughter of Richard, Viscount Fitzwilliam and widow of Henry, Earl of Pembroke and Montgomery,
? son. See below family of North Ludlow
(7) SQUIRE FRANCIS (heir) born 25th Sept, 1698 m Anne Fitzmaurice Petty, daughter of Henry, Earl of Shelburne and niece to Thomas, 23rd Lord of Kerry on 26th March, 1722 and had one son who died young. Anne, heiress, died before her father, Earl Henry who died in 1730 and left his large estates to his nephew John Fitzmaurice Squire Francis lived at Castle Bernard and then Bassingbourne Hall, Essex. He died on19th March 1783 at Spring Gardens, London and was buried at Takeley Church, Bassingbourne. His tomb stone is in St Peters, Ballymodan, Bandon
SQUIRE FRANCIS (heir) and ANNE (Fitzmaurice) had no issue
The title passed to North Ludlow branch (North Ludlow died before Squire Bernard in 1768 so his son James inherited). North Ludlow had Charles (died young Feb 1763, unmarried), James born 8th December 1729 and died Dublin, 7th July 1790 (buried in Ballymodan, Bandon) (heir) m (1) 1752 Esther Smyth, daughter of William and Ann Smyth of Headborough, Waterford, granddaughter of Sir Percy Smyth of Ballynatray, Youghal (she died 1780) and the widow of Robert Gookin of Courtmacsherry by whom she had issue. James' second wife by a quiet marriage was daughter of Rev Sullivan.
Daughters of North Ludlow were:
(1) Mary m on 26th August 1756 at Ballymodan Bandon Isaac Hewitt of Clan Coole, Bandon
(2) Eliza m 14 Jan 1766 at Ballymodan Bandon Richard Sealy of Richmount, Bandon
(3) Alice married 29th Sept 1751 at Ballymodan, Bandon Captain William Beamish of Willsgrove, Cork. She died 1792. Amongst their children they had Richard, Rose, Charles (1761-1842, Mary (1763-1839), James, Isaac. Rose married William Cuthbert in Rathcooney Church in June 1774. Their daughter Rose married her first cousin Francis Sealy who was born at Richmount and then of Woodview (Francis was the son of Richard who married Alice's brother, Richard in 1766).
JAMES (heir) - Inherited from Uncle Francis in 1783 and ESTHER (Smyth) had:
Charles born 12th August 1760 and died in 1783 before his father,
Elizabeth (died young),
Rose, born 8th March 1758 and died at Lisnegar, Co Cork aged 52 on 26th May 1810 married on 13th November 1773 (1) Right Hon William Tonson, 1st Lord Riversdale, Baron of Rathcormac, Lieut Col 53rd regiment of Foot (he died 1st Dec 1787) and had issue by him: Richard died as infant, William (2nd Lord), James Bernard ( b 9th Nov 1776 and died 11th Feb 1803 died unmarried), Richard b 1st Jan 1778 Lieut 58th foot and died Martinique 17th Sept 1794, Francis born 6th March 1780, midshipman on the Doris, RN and died 1st Nov 1798, Charles Ludlow b 9th July 1781 died unm 20th Aug 1837, Henry b 6th Feb 1783 lieut 34th Foot and d at Ceylon Feb 1805, Ludlow b 6th Mar 1784 in holy orders, Esther-Charlotte b 23rd mar 1779 m 1802 major Gen Joseph Baird of Newbyth, East Lothian, Charlotte b 25th December 1786 died unm Dec 1830(2) married in 1792 James Millard Esq, Captain, 56th Foot. Had issue.
Esther born 17th March 1759. Died 18th May 1824 m 2nd Dec 1775 Sampson Stawell of Kilbrittain Esq, Colonel of the Bandon cavalry (his will dated 21st June 1815 and buried Rathclaren 5, January 1819). Died leaving issue including Jonas Stawell, born 24th sept 1776 (heir) who married 8th July 1816, Charlotte, daughter of Hayes, Viscount Doneraile and he died 15th Jan 1835 leaving a daughter Charlotte Harriet Esther, wife of William St Leger Alcock Stawell, Esq of Kilbrittain Castle. Esther and Sampson also had Bernard born Kilbrittain October 1777, Esther born September 1778 Kilbrittain and died November 1856 in Bandon, William born 1780 Kilbrittain and died abroad, Melian Charlotte born 20th March 1782 Kilbrittain and died 1852 Kilbrittain, James Ludlow born 1783 Kilbrittain and died 30th October 1832 having married Rose Emma Sealy, Rev Francis born May 1784 and died 21st July 1866 in Doneraile, Col Sampson born 6th October 1785 and died 21st August 1849 Harrogate, England. Never married but may have had illegitimate children, lastly Charles baptised 2nd September 1787 Rathclaren and died at Lisnegar on 6th August, 1829. Died unmarried of poisoning.
Mary born 1760 and died 14th November 1825 m Sir Augustus Warren, 3rd baronet of Warrens Court, Co Cork and eldest son of Sir Robert Warren bart. Had issue
Charlotte m Hayes St Leger - 2nd Viscount Doneraile of Doneraile, Co Cork (he was born 9th March, 1755 and died 8th November 1819 and they married on 25th July 1785 and had issue). She died 2nd Sept 1835
Elizabeth m 1785 Richard Acklom of Wiseton Hall, Nottinghamshire (eldest son of Jonathan Acklom) and had amongst issue Esther Acklom who married John Charles, 3rd Earl Spencer of Althorp and
Francis born 26th Nov 1755 (heir and 1st Earl) m 12th February 1784 Right Hon Lady Catherine Henrietta Boyle, only daughter of Richard Boyle, 2nd Earl of Shannon by his wife Hon Catherine Ponsonby. He died 26th November, 1830 at Castle Bernard. Harriet was born on 12th January 1768 and died 8th July 1815 at Castle Bernard
FRANCIS (1st EARL of BANDON) and HARRIET (Boyle) had

James (heir and 2nd Earl born 14th June 1785 in Bandon and died 31st October 1856 at Castle Bernard) m 13th March, 1809 in Cashel Mary Susan Brodrick eldest daughter of Charles, Archbishop of Cashel and sister of Charles, 6th Viscount Midleton. Mary was born 9th October 1787 and died 23rd April 1870, buried in Bandon
Richard Boyle, born 4th September 1787 (unmarried). Became Hon and Very Rev Richard, DD Dean of Leighlin and died 2nd March 1850,
Francis, born 27th February 1789, Lieutenant 9th Light Dragoons and died Coimbra, Portugal 24th January 1813 (unmarried),
Henrietta Catherine born 7th July 1790 died 1st December 1850 (unmarried),
William Smyth, born 13th September 1792, Capt. 1st Dragoon Guards & MP for Bandon m 31st May 1831 Elizabeth Gillman, daughter of Lieutenant Colonel Henry Gillman of Clan Coole, Bandon - no issue died 6th February 1863. Of the Farm, Bandon. Became Hon Lieut Colonel
Charlotte Esther (2nd Daughter) born 28th January 1794 died 7th February 1846 m 14th June1816 her first cousin 3rd Viscount Doneraile, Hayes St Leger,
Louisa Anne born 24th December 1795 (died 26th May 1851 unmarried),
Henry Boyle born 5th December 1797 and killed at Waterloo 1815 (unmarried),
Elizabeth (died young),
Charles (born and died in 1803),
Charles Ludlow born 12th April 1805 and died 21st January 1861
JAMES (2nd EARL of BANDON) and MARY SUSAN (Brodrick) had

(1) Francis (heir), born 3rd January, 1810 Grosvenor Street, London, died 17th February 1877 at Castle Bernard aged 67 (heir and 3rd Earl) m 16th August 1832 in Brighton Catherine Mary Whitmore (born 17th June, 1811 and died 13th December 1873), eldest daughter of Thomas Whitmore of Apley Park in Shropshire who was High Sheriff of Shropshire, MP, JP, DL by his wife Catherine Thomason. Catherine, wife of Francis, was born 1812 and died on 15th December 1873 at Castle Bernard,
(2) Charles Brodrick, 2nd son, born 4th January 1811 and died 31st January1890, rectory and prebendary of Kilbrogan, Bishop of Tuam m 25th July1843 the Hon Jane Grace Dorothea Evans Freke,sister of 7th Lord Carbery and daughter of Percy Evans-Freke. She died on 56th June 1892. They had the following children, Captain Percy Brodrick of Castle Hackett, Tuam, Co Galway, Royal Munster Fusiliesr, RA, JP, DL who was born on 17th September 1844 and died on 18th July 1912 having married (1) 11th April 1872 Isabel Emma Beatrice Lane, daughter of John Newton Lane, Esq of Bromley Manor, Staffs, JP, DL, son of John Lane and Sarah Amler (nee Lloyd) by John Lane's wife the Hon Agnes Bagot, daughter of 2nd Baron Bagot and Lady Louisa Legge. She died on 1st May 1876. He married (2) on 6th February 1880 Mary Lissey Kirwan, daughter and heiress of Denis Kirwan, esq of Castle Hacket, High Sheriff of Co Galway, JP, DL by his wife Margaret Macan. She was born 1850 and died on 1st August 1898. Percy and Mary Kirwan had Frances Mary Bernard who married (1) 1900 George Arthur Paley, son of John Paley of Langcliffe Yorkshire and Ampton, Suffolk by his wife Hon Clara Emily Strutt, only daughter of 2nd Lord Raleigh. George Arthur Paley and Frances Bernard's marriage was dissolved in 1916 2ndly Major Henry Hastings Brooke. Percy Brodrick Bernard married (3) on 2nd June 1900 as her first husband Evangeline Hoare, daughter of Henry Hoare Esq of Iden Park, Staplehurst, Kent, partner in Hoares Bank by his wife Beatrice Anne Paley. She died on 17th February 1950.
(3) Henry Boyle, 3rd Son, born 6th February 1812 m 18th January 1848 Matilda Sophia, youngest daughter of Lieut General Charles Turner of Sutton Middlesex, Col, 18th Regiment) and Henry Boyle died 14th March 1895. Of Coolmain Castle and Colonel, 3rd Battalion Royal Munster Fusiliers. No issue. Was for a time agent for the Castle Bernard Estate.
(4) Catherine Henrietta born 11th November 1813 and died 20th June 1887, unmarried
(5) James born 11th June and died 7th November 1815
FRANCIS (3rd EARL of BANDON) and CATHERINE(Whitmore) had 7 children:

(1) Emma Harriet baptised 26th October 1844 (unmarried) died 18th October 1929 in London
(2) Louisa Albinia, baptised Paddington, London on 10th April 1841 and died 25th September 1928 London (unmarried),
(3) James Francis (heir) KP born 12th September 1850 and died 18th May 1924 (heir and 4th Earl) m 22nd June 1876 Hon Georgiana Evans-Freke, daughter and heiress of George Patrick Percy Evans Freke, 7th Lord Carbery by his wife Harriet Maria Catharine Shuldham. Georgiana was born on 3rd November 1853 and died on 29th June 1942 and had no issue,
(4) Adelaide Mary Lucy (baptised 2nd Sep 1846 and died 29th Sept 1884 married as his first wife on 11th November 1873 Sir Henry Monson de la Poer Beresford-Peirse, 3rd Baronet of Bagnall, Co Waterford, son and heir of Henry William de la Poer Beresford-Peirse Esq of Bedale and Hutton Bonville, Yorks by his wife Henrietta Anne Theodosia Monson. Sir Henry was born on 25th September 1850 and died on 8th July 1926. They left issue: Major Henry Bernard de la Poer Beresford Peirse (b 9th Jan 1875 d 14th May 1949) and Rev Richard Windham de la Poer Beresford Peirse (b 6th Aug 1876 d 13th March 1952 m (1) 21 July 1910 Lillian Katherine Campbell and had (a) Francis Campbell Beresford Peirse b 26 April 1911 m Kathleen Lillian Edgcumbe and had Jeremy b 7th Sept 1937 d 16 Feb 1940 and two other children, (b) Sybil Adelaide b 1912 (c) James b 11th Feb 1914 d 12 Feb 1914 (d) Barbara b 1915 m Barry Martin Baker and had two children (e) another who married Godfrey Mapplebeckk and (2) 4th Sept 1924 Katherine Mabel Helen York Scarlett).
(5) Mary Catherine Henrietta born 2nd Aug 1837 Paddington, London and died 10th Jan 1920 m 30th July 1863 Colonel Richard William Aldworth, of Newmarket, High Sheriff of Co Cork, JP, DL 7th Royal Fusiliers who was born on 31st January 1825 - no issue
(6) Charlotte Esther Emily born 5th April 1843 Kensington, London and died 13th July 1934 Westminster, London,
(7) Kathleen Frances born 14th November 1853 Bandon and died 22nd February 1921 Chelsea, London m 2nd June 1885 Alfred William George Gaussen. of 3 Walpole Street, Chelsea, London, 25th Regiment, RA, son and heir of Frederick Charles Gaussen, barrister at law, by his wife Letitia Maria Chapman. Alfred was born in 1855 and died on 6th April 1910, 25th regiment Royal Artillery. Had Mary Frances L Gaussen born London born 13th June 1886 London and died June 1969 in Westminster, London
JAMES ( 4th EARL of BANDON) and GEORGIANA (Evans Freke) had no issue
The title passed to a cousin. James, 4th Earl was an only son so the grandson of his father, Francis's brother, Rev Charles Brodrick Bernard who married Jane Grace Evans Freke inherited Castle Bernard. (Both his father's brother, Rev Charles Brodrick and the son of Charles, Percy had died before the death of James, hence his grandson inherited the title). Rev Charles had Percy Brodrick Bernard, born 17th September 1844 and died 18th July 1912. Percy married (1) Isabel Emma Lane on 11th April 1872 (2) Mary Lissey Kirwan on 6th February 1880 and (3) Evangeline Hoare on 2nd June 1900.
PERCY RONALD GARDENER Bernard, (5th EARL of BANDON), born 30th August, 1904 Gillingham, Kent and died 8th February, 1979 was the son of Lieutenant Colonel Ronald Percy Bernard who in turn was the son of Percy Brodrick Bernard's marriage to Isabel Emma Lane (see above).

Lieutenant Colonel Ronald Percy Hamilton Bernard was born on 1st May 1875 and died on 2nd February 1921. He married on 5th January 1904 as her first husband Lettice Mina Paget, daughter and co-heiress of Captain Gerald Cecil Stewart Paget of The Hatch, Windsor Road, Bray, Berkshire, Northumberland Artillery Millitia, Hertfordshire Yeomanry cavalry RA, who was the son of Lord Alfred Paget and the grandson of the 1st Marquess of Anglesey by his wife Lucy Annie Emily Gardener, daughter of Richard Gardener and granddaughter of Robert Gardener. Lettice was born on 25th July 1800 and died 6th December 1969 and had issue:
(1)Percy Ronald Gardener Bernard (heir), a twin, who married (1) Maybel Elizabeth Playfair on 28th February 1933 at Nairobi Cathedral, daughter of Raymond Playfair, a banker, of Nairobi as her first husband. She was born 6th November 1905 and died 8th August 1987. He married (2) on 2nd October 1946 Mrs Lois White nee Russell, daughter of Francis Russell of Victoria, Australia. She died 16th October 1999. Percy Ronald had issue two daughters (heir of Castle Bernard) by his first wife Maybel Elizabeth Playfair.
(2)Twin brother the Hon Charles Brodrick Amyas Bernard of Saxmundham, Suffolk and Buckinghamshire Light Infantry.RA CBE. also born 30th August 1904. Married 13th July 1937 the Hon Ursula Margaret Vivian, daughter of Odo Richard Vivian, 3rd Lord Swansea of Singleton by his wife the Hon Winifred Hamilton. She was born on 13th May 1910 and died 2nd August 1963 and had no issue.
(3)Lady Cynthia Lettice Margaret Bernard born 3rd December 1905 Died May 2000. Married (1) 21st July 1925 Major Francis Christian Darby Tothill, Rifle Brigade RA, son of Vice Adm. Sir Hugh Tothill of Bradford on Avon, Wiltshire. married (2) 9th December 1947 A/Cdr Lionel Guy Stanhope Payne, RAF, MC son of Peter George Stanhope Payne, barrister at law. She left issue by her first husband.