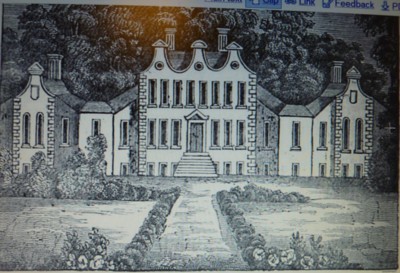 A Sketch of Palace Anne in 1834
In 1834, Palace Anne, the residence of Captain Beamish Bernard is described as follows "The house is an ancient brick built mansion erected in the 17th century by the ancestor of the present proprietor. The principal front is one hundred and forty feet long consisting of a centre and wings; the centre rises into three ornamental gables in the old French Style. Before the house there is a large pleasure garden, in which the clipped yews and hollies and the old parterres have been scrupulously preserved in the taste of past ages. To the rear ascends a broad high hill, clothed with fine oak and walnut trees." Palace Anne was sold by Arthur Beamish Bernard in 1875 having been built in 1715. Little is now left of the ruin.
A short history of the Bernards of Palace Anne
See the Bernards of Castle Bernard for the family history up to Arthur's birth in 1666
Francis and Mary had
(1) Maria m (1) Eusebius Chute of Chute Hall, Tulligaron, Co Kerry (2) Francis Brewster of Brewstersfield, Co Kerry, son of Sir David Brewster,
(2) Anne m Robert Foulkes of Youghal (she died in 1754 & left her property to her nephew Stephen),
(3) Elizabeth m Rev Samuel Wilson,
(4) Mary m Edward Adderly of Innishannon,
(5) Arthur (of Palace Anne born 1666 and buried in Ballymodan on 15th December 1735) m Anne Power on 22nd Dec 1695 at Lismore Castle,
(6) Judge Francis, born 1663 (heir) m in 1697 Alicia Ludlow (she was born 2nd July 1675 and died May 1741), daughter of Stephen and granddaughter of Sir Henry Ludlow of Maiden Bradley, Wiltshire.
Arthur had Palace Anne built for him in 1714s. It was abandoned by 1875 and the ruins were demolished in the late 1950s.

His wife Anne Power was the daughter and co-heiress of Roger Power (or Le Poer) of Mount Eglantine, Co Waterford Esq. She was buried in Ballymodan on 18th June 1749. They had issue as follows:-
(1) Mary, born Lismore Castle on 13th May 1698. Married 29 Oct 1721 William Connor of Connerville, Co Cork Esq. He died 1766. She was buried at Kilbrogan on 16th Sept 1776 (left issue)
(2) Ann, born Lismore Castle on 14 Jan 1699. Marriage 1726 to Charles Gookin of Lislee, Co Cork, Gent. He was buried Kilbrogan, 28th Nov 1758. Ann was buried Kilbrogan, 19th Oct 1768. Will proved Cork 1768
(3) Thomasine, born Listmore Castle, 29th June, 1701. Married William Coghlan of Youghal, father of Jeremiah Coghlan, Esq of Ardo, Co Waterford.
(4) Elizabeth born Lismore Castle 6th October 1702. Married 1731 Major Jeffrey gibbon. He died before 1766. Her will proved Cork 1775
(5) Roger (heir), born Lismore Castle 7th December 1703. Married Cork 1740 D. Harper. she was buried Ballymodan 27th August 1762 as a widow. They left issue: Roger born 1742 unmarried. His estates passed to his uncle Arthur Bernard
(6) Margaret married 1729 Edmund Barrett of Towermore
(7) Francis born Palace Anne 7th Oct 1706 married Elizabeth ... and had issue. (Trudeau line - see below)
(8) Catherine born Palace Anne in March 1707/8. Married 1741 Edward Martin of Cork - He was buried at Ballymodan, 11th Jan 1750 Their only daughter married Francis Rowland Esq, mayor of Cork in 1773, brother of Sir Samuel Rowland
(9) Arthur (heir following death of Roger, son of his brother Roger) married 1755 his cousin Mary Adderley, daughter of Francis Adderley and great granddaughter of Sir Matthew Hale and had issue (see below)
(10) Henrietta born 27th March 1712 married 1736 William Bernard, 5th son of Judge Bernard and a first cousin. Of White Castle, Kinsale and buried in Kinsale near his brother Arthur
(11) Arabella born Palace Anne 10th August 1713. Unmarried
(12) Alicia born Palace Anne 2nd january 1714/5. Married 1734 Benjamin Green, 7th son of Simon Green of Youghal (he was born 1711). Issue - a daughter and heiress who married Rev Arthur Hyde of Hyde Park, Cork father of Rev Arthur Hyde, rector of Killarney
(13) Dorothy born Palace Anne 29t July 1716. Married William Cooper Esq
(14) George born Palace Anne 7th may 1719. married 20th July 1745, Mary,daughter of Sir William Codrington of Doddington in Gloucestershire, grandfather of Vice Admiral Sir Edward Codrington GCB and had George of Heton Lodge, Leeds who died a General in 1820 (he was a general officer in the army and Coloniel of the 84th regiment. Usher of the black rod during the vice royalty of Charles, 4th Duke of Rutland in Ireland.

Arthur who married his cousin, Mary Adderley, sister of Thomas Adderley of Innishannon and great granddaughter of Sir Matthew Hale and inherited Palace Anne had issue
(1) Francis who dsp,
(2) Thomas (heir), Arthur who married Margaret daughter of ... Warren of Castle Warren, Co Cork who had with other issue a son, Arthur, major HP 84th regiment.
(3) Elizabeth who married Richard Beamish esq of Raharoon, Co Cork and had issue 12 children:
(i)Thomas Beamish, Major 83rd regiment unmarried and buried 16 Nov 1823,(ii) Arthur Beamish unmarried and buried 19 Jan 1855 (Successor to his uncle, Thomas Bernard Esq). (iii) Vincent Beamish, lieutenant, 8th Kings regiment died in the West Indies in 1796, (iv) George Beamish (captain 31st regiment) died unmarried, (v) Bernard Beamish (lieutenant 84th regiment) who m Elizabeth Beamish, daughter of John Beamish on 5 Jan 1839. Buried 22 Nov 1871 without issue, (vi) Samuel Beamish, captain 84th regiment m Ellen, daughter of Godfrey Byrne and had issue. (vii) Adderley Beamish (Captain 31st regiment) b 18th Oct 1795 m , Frances, daughter and heiress of General George Bernard by Elizabeth daughter of Metcalfe Proctor, Esq of Thorpe, Yorkshire and had issue Mary Isabella Beamish Bernard b 10 May 1825, d Mar 1865. Captain Adderley Beamish Bernard m 2ndly Anne Catherine Walker and had issue: Colonel George Adderley Hale Beamish Bernard b 23rd Jul 1846, d 29th Dec 1912 and Lieutenant Richard Stanley de la Poer Beamish Bernard b 20 Feb 1852 and d 17 Sept 1900.(viii) Richard Beamish d unm (ix) Elizabeth Beamish who married Thomas Austen Esq of Skeaf House, Kilmaloda, Cork (x) Mary Beamish who married William Sullivan (Major 79th regiment) on 23 Apr 1800 (xi) Jane Beamish, (xii) Anne Beamish.
(4) Alicia married Rev John Hingston of Aglis in Co Cork. Prebendary of Lefinny near Kinsale and curate of Kilbrogan Bandon (born 1762). Married 1789. He died 1799. They left issue Arthur Bernard who died young, Francis-Bernard and other children.
Thomas (heir) married Harriet Lucas and died without issue so was succeeded by his nephew Arthur Beamish who assumed the surname and arms of BERNARD, ie became Arthur Beamish Bernard Esq of Palace Anne.
Arthur Beamish Bernard, son of Samuel Beamish and Ellen of Mamore in the parish of Killowen, born 20th January 1831, married on 14th November 1852 Elizabeth MacCarthy who was born 15th October 1830 in Dublin. Arthur died in Jefferson, Wisconsin on 22nd June 1888. He arrived in America on 18th September 1850 on the "Roscius" from Liverpool aged 19. He moved to Palmyra, Jefferson, Wisconsin in 1852 and by 1856 owned a 240 acre farm. In 1875 he sold Palace Anne. He fostered a child, Richard McCarthy who was born about 1862

29th November, 1823. Baptism of Adderley Bernard, son of Arthur B. Bernard Esq and Margaret Hennigin, parish of Kinneigh. Illegitimate. This birth was recorded in the Murragh parish records.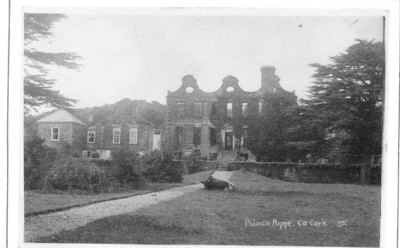 The Ruins of Palace Anne pre 1950