BANDON GENEALOGY

a guide to tracing your ancestors in bandon, cork. ireland

BANDON NEWSPAPER SNIPPETS
Tuesday January 1815
MIDWIFERY
JULIA GILL
Lately arrived from the lying-in hospital in Dublin
Respectfully informs the public that she is now settled in Bandon where she means to practice the above profession while she solicits the favour and patronage of the ladies of the vicinity. She begs leave to refer for her proficiency and still to those distinguished persons whom she has already attended with success and to the certificate of the physicians at the above hospital where she served 6 months.
Commands for her left at Mr Jeremiah Falvey's Inn Keeper Bandon shall be punctually attended
Advertisment in the Cork Morning Post February 1823 relating to property to let by David Ring.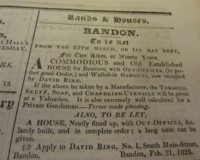 Death Notices for Bandon Cork Morning Post February 1823 relating to William Jenkins Esq, Medical Doctor of Bandon and William Loane, Esq, Lieutenant in the Royal Navy and son of the late Dr Loane of Bandon
Death notice in paper of 20th February, 1841 of William Richardson, Cotton Merchant of Bandon

Notice in the Constitution of 23rd June 1846 relating to Bandon School and the pupils, John England, William Heazle and William Hallaran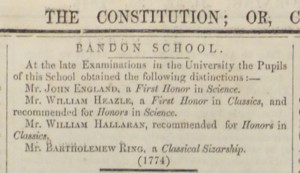 Notice in the Constitution of 4th July 1846 relating to Bandon School in Devonshire Square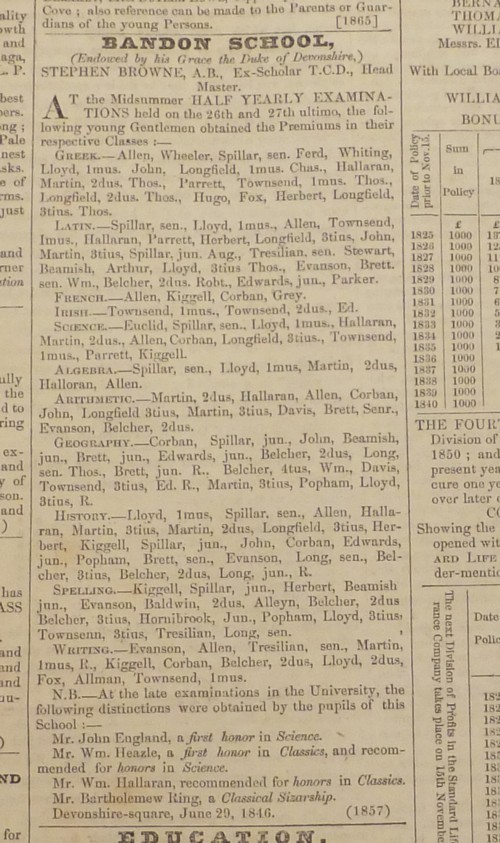 George Burchill notice from Southern Reporter, Sept 1830
CMC W 10 April, 1811. Advertisement. John Burchill, late of Bandon has taken the Bush Tavern and Hotel, Cork. (He died a year later)cj
CJ 30th May 1757. Advertisement. Whereas Catherine Collins otherwise Enraughty, wife of Daniel Enraughty of Coolecoleta near Innishannon in the Co Cor Corke hat eloped.